Renewable HVAC
According the the Department of Energy, geothermal heat pumps (GHPs), sometimes referred to as GeoExchange, earth-coupled, ground-source, or water-source heat pumps, have been in use since the late 1940s. They use the constant temperature of the earth as the exchange medium instead of the outside air temperature
​​Geothermal Heating & Cooling (GHC) systems convert stored thermal energy in the earth to heating and cooling for homes and businesses. The systems require use of drilled wells, piping loops, and efficient heat pumps to transfer heat between the wells and a home or business.
GHC systems are the most energy-efficient, environmentally clean, and cost-effective space conditioning systems available, according to the Environmental Protection Agency.1 EPA found that
GHC systems can reduce energy consumption by over 40% compared to air source heat pumps, and by over 70% compared to electric resistance heating with standard air-conditioning equipment. EPA also found that GHC systems are 48% more efficient than the best gas furnaces on a source fuel basis, and over 75% more efficient than oil furnaces.​
More information on types of geothermal heat pumps can be found here:
​Prince George's County Geothermal Renewable Energy Credits (RECs)
In 2012, Maryland became the first state in the country to make the energy generated by GHC technologies eligible for the Renewable Portfolio Standard (RPS) as a Tier 1 renewable source (HB 1186). GHC system owners are also eligible for Prince George's County Geothermal Renewable Energy Credits (RECs), equivalent to 1 MegaWatt-hour (MWh) of electricity.
To qualify for RECs, the GHC technologies must:
Take the following steps to register your GHC system with the Maryland Public Service Commission and capture an additional revenue stream:
Sustainability Frameworks
GHC can be a major contributor to goals set by established "green building" standards such as the U.S. Green Building Council's Leadership in Energy and Environmental Design (LEED), Net Zero Energy Homes and Buildings, and the Living Building Challenge.
One elementary school in Richardville, Kentucky leveraged green design with solar PV and GHC to become the nation's first Net Zero Energy School, which means that the school generates more energy than it consumes over the course of a year.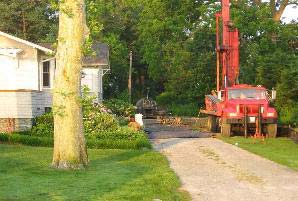 Apply for a Geothermal Heat Pump Grant
Questions? Contact:
Clean Energy Program Manager Marta Tomic via email at marta.tomic@maryland.gov or telephone 410-260-2608.